Language exchange needs two kinds of people — teachers and students. The HelloTalk community has many experienced teachers and many dedicated students. Often, HelloTalk users both teach others and learn other languages too, after all, it's a language exchange app! In this article we meet HelloTalk's top teachers and students. Read their tips and get inspired by their language learning journeys.
This post is a part of our Super User series. In this collection of articles we talk to some of HelloTalk's top followed users, explore what makes them stand out, and… what we can learn!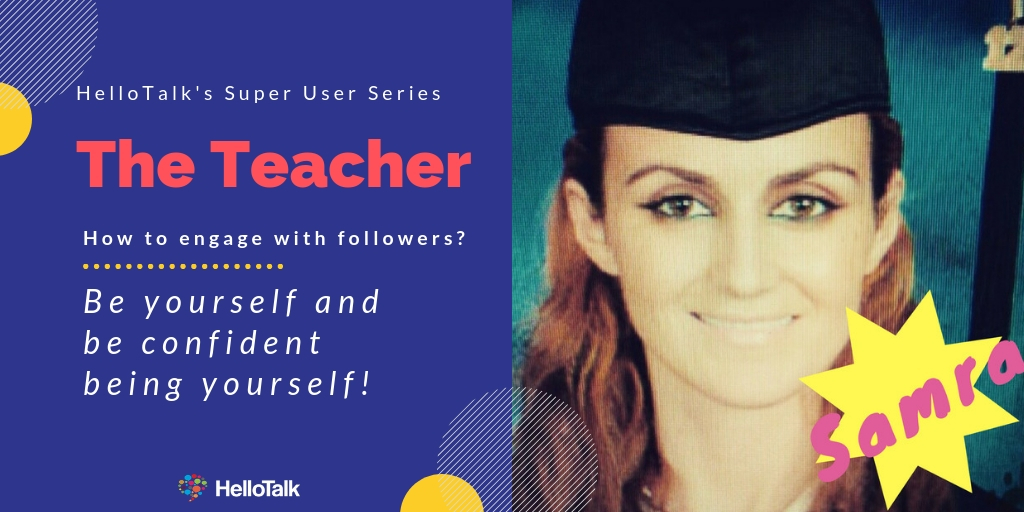 "One of my main goals in using HelloTalk is to help language learners around the world gain a better understanding of some of the most common mistakes that are committed in the process of learning a new language."
Samra spends her time on HelloTalk as an English teacher. In her day to day life she is a language coach and has a language learning company. Samra recalls, "Once upon a time, I could NOT speak English […] now I can speak almost 10 foreign languages. Hard work does pay off in time. The point is to not give up easily."
Samra uses HelloTalk Moments, in text or video format, to show the common mistakes people make in written and spoken English. She always tries to be personal in replying and helping other users whenever she can. We asked why she thought she had so many followers on HelloTalk.
"…because they can relate to my story. People find it inspiring and I believe that my story and my unique abilities to teach motivate students to learn and not give up."
Samra's words of wisdom:

Be yourself and be confident being yourself. Spend time creating posts on HelloTalk in order to reach out to as many people as possible.
"My goal in using HelloTalk is to reach out to a wide audience of English learners who can benefit from my tips and teaching. I want to contribute to this community of language leaners by engaging and encouraging others."
Conner enjoys giving advice to English learners, focuses on pronunciation and the information you don't find in grammar books. He spends his time on HelloTalk posting helpful videos and tips for users.
Conner's words of wisdom:
When using HelloTalk be consistent with posting, be active, and engage with the community. If you have followers pay attention to what they need as language learners and focus on what type of posts they like.
"My goal in using HelloTalk is to increase fluency in Chinese and Vietnamese over a period of time. I remember 2-3 years ago when I only knew 10 words in Chinese. Now I can write complete paragraphs, and express myself quite well. I still need to work on grammar, so my goals are to improve my grammar, and continue to build up my vocabulary."
David makes a commitment to post something related to his studies everyday. "I write paragraphs in Chinese about various topics and wait to see if anyone corrects anything," says David. "As my Vietnamese is still elementary, I often write and speak my message in both languages and wait to see if any native speakers notice any errors."
We asked David why he thinks people follow him he said:
"I think its because I show my work. I let people see me studying, practicing, writing, and speaking. I do my best to set an example of good study habits, and I think other people see that and improve their own study habits."
David's Words of Wisdom:
Consistency: Make a commitment to post something in the language your are studying every day

.

Show you are serious: When people see that you are actually studying, rather than posting trivial things, you tend to attract people who are serious about learning

.

Comment on people Moments. Follow people who you find helpful, and then be consistent about commenting on their Moments.
"My goal in using Hello Talk is to improve my listening and speaking, primarily for Mandarin Chinese. I also work on other languages and like to learn about people around the world, different places and cultures."
Neal spends most of his time on HelloTalk participating in small group classes with a group called T4E. "This involves being both a teacher and a student", says Neal. "One method we use is a game with listening and speaking (you can read about it on listenspeakgame.com). HelloTalk is an ideal environment for this because of the features in the software."
Neal posts a variety of interesting and helpful language tips such as English listening exercises from his group classes, music he has recorded, and his drawings.
Neal's words of wisdom:
Try posting some lessons of your native language in Moments with a short set of related words. Or try telling a story in your native language (not too fast). You can also post some photos that you have taken of interesting things. Be helpful and people will notice.
Feeling inspired to build up your teaching career? Start by posting a Moment related to your own latest language practice. Show you're a student, before you become an educator.