As the world's leading language exchange platform, HelloTalk doesn't only help users to learn languages. It also exposes them to a vast global community of exciting and positive individuals hailing from diverse cultural backgrounds. HelloTalkers, as they're known, assist each other to learn their target languages, and they share information about their cultures, interests, hobbies, and much more.
Working for a Japanese gaming company in Shanghai, in late 2018, Jasmine (@jasmineyang1116) found the HelloTalk app online and joined wanting to improve her Japanese. "When I first came to HelloTalk, I joined a Japanese-English group which helped me practice both Japanese and English", she explained. "I made some friends there, and I was very happy to connect with people from different countries, getting to know more about different cultures", she added. Later, a friend invited Jasmine to a Chinese-English group, and she went on to meet some of the members in person in Shanghai. After striking friendships with members of the group, she was invited to a photography group run by Shanghai ex-pats. This proved to be the beginning of what continues to be an illustrious photographic pastime. Often using HelloTalk to showcase her striking images of Shanghai, Jasmine gauges exposures, tones, angles, and overall quality and feel of her images through HelloTalk Moments posts, fielding comments, and receiving feedback from photography fans from all over the world.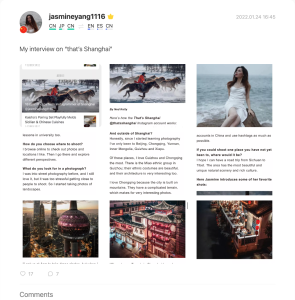 As Jasmine's photographic skills continued to bloom, her enthralling depictions of her city were featured in various Shanghai media, and she was even interviewed about her keen eye and captivating approach to capturing the Shanghai skyline and traditional Chinese and natural landscapes. She even shared exhibition space, showcasing her work with other local artists. "HelloTalk not only helped my English, but it changed my life, helping me to see the world outside of China. It's a service I really appreciate", she said.
HelloTalk enables its millions of global users to search for language partners by language, language proficiency, and by "nearby", city, and even age and gender. HelloTalkers can then strike up conversations with native speakers, "follow" them, and can then share fascinating, entertaining, and educational Moments posts with one another for maximum language learning and cultural experiences. Together with powerful translation functions, HelloTalk proves to be an invaluable tool for language and culture enthusiasts throughout the world. Available for Android and iOS, click here to download HelloTalk and start talking to the world now!